I have been planning my trip to Antarctica by way of cruise ship for over 5 years now. Antarctica is only open for visitors during summer (December – February). I wanted to go in the comfort of a cruise ship, as most of you who have been reading my blog know… I am not exactly one with nature as I would like to be. My trip itinerary was a combination of Chile, Argentina, Uruguay and Antarctica. I tried blogging while on board, and admittedly got lazy, but what you will read below are some journal entries from certain days and a wrap up. I feel so fortunate to have had the opportunity to travel to these exotic places and am happy to share it with all of you.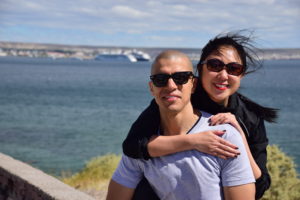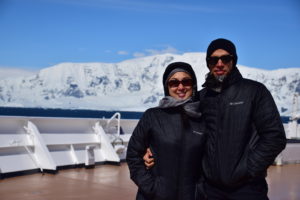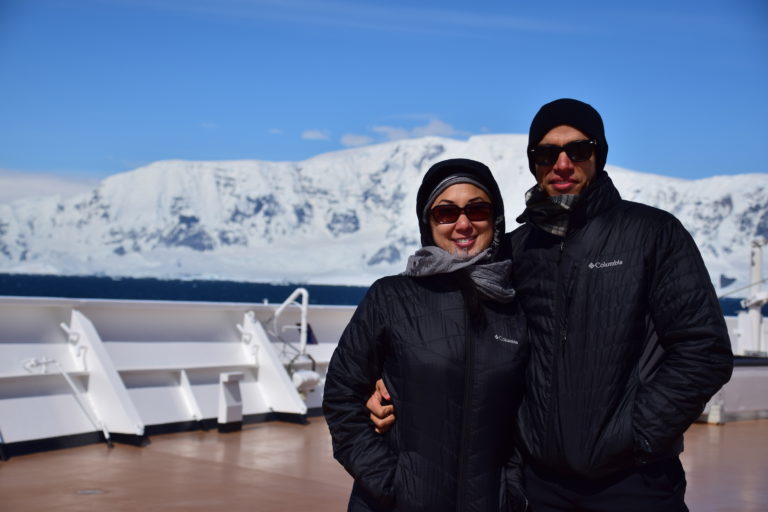 Chile
Although Antarctica was certainly the highlight of our trip, there were some breathtaking places in Chile that I had no idea existed. Out trip started off in the capital city of Chile, Santiago. Santiago was hot! I had no idea how hot it would be, as being from Florida, I always think we are prepared for the heat. The heat yes, the sun, no. Apparently, the ozone layer above this region is so damaged, that the UV index is about three times higher here and can cause some serious skin damage. We only spent a day in Santiago, but the city unfolded itself to me in that short time. The streets were bustling like one would expect in the capital, with a large Cathedral in the city center at the Plaza de Armas. O and I made our way by foot through the entire city and spent the afternoon at the top of San Cristobal to admire the view of the city. The foodie in me planned a visit to Borago, one of the 50 World's Best Restaurants, which happened to be in Santiago. The meal was fantastic. Those who follow my Instagram account will have caught the first drink we were given … rainwater from Patagonia. Each dish was prepared inspired by the landscape of Chile. It was a great introduction to the longest country in the world. It actually set the tone for much of what we would see in the days to come.
We left the big city and went to the port to catch our cruise ship….but not before traveling through the Casablanca Wine Valley, which produces some incredible wines. We of course stopped at a few of the vineyards, to enjoy the offerings of the region, in the form of wine. We finally stumbled aboard our home for the next 21 days, the m/s Zaandam. The thought of being an explorer like Magellan, Darwin, Shackleton, and those that have sailed this path before us was exciting. However, I think we had a bit more luxury than those 'true' explorers. 😉
The country of Chile did not disappoint. We visited Puerto Montt, the Chiloe Island region, and Punta Arenas… Each town had its own charm. We found Chileans to be amiable and excited to share their culture with us. Of course, it did help that O speaks Spanish, and was our translator for most of this trip. I really was amazed at the hospitality of the taxi drivers, who also doubled as tour guides. O really connected with them, so much that we would get extra treats from them wanting to share their culture with us. One driver gave us the local sweets and a juice drink from the nectar of the plant Narcas. They also use the leaves to wrap fish and bake it in the ground. The generosity was truly touching, as we were even given a bottle of Chilean wine as a departing gift from another driver. (he also happened to be a DJ there who loves the 80's. A DJ after my own heart. You can check out some of his fun youtube mixes here) The true highlight of Chile for me was in Puerto Montt visiting the Osorno Volcano and Lakes. The scenery was breathtaking and it even left me feeling one with nature. We also hiked through Patagonia and the air, trees, and landscape were all incredible.
The excitement was building as we headed further south to Argentina and hit the city at the end of the world, Ushuaia. This port, as well as Punta Arenas, was where many explorers would supply and depart from as they headed to the great White Continent.
Drakes Passage, Strait of Magellan, and Cape Horn
We were expecting some pretty harsh weather and waves as we sailed through these straits and passage ways, as we had heard the seas here can be pretty crazy. However, we were blessed with more good weather and although had about 4.5 meter waves, this was nothing compared to the 8.5 meters that we were expecting. We actually ended up drifting in a channel to wait out the storms that were passing through. In 1832, the journal of Charles Darwin had recorded that on the very same day, he too was in the channel waiting for the weather to improve before heading out into the sea. I laugh at the notion that we are even comparing ourselves to such explorers, but we were sailing the path that they laid out for us, and learning so much along the way. We have an Antarctic Expedition team on board, and they are experts in all things Antarctica. Dr. Peter , Gabriel Roaland, and Dr. Margaret Bradshaw
Antarctica
Glacier Alley
Our first glimpse of any 'ice' was Glacier Alley leaving Argentina. We were excited to see the ice falling down the side of the glacier. As we pressed on towards the main land, we saw icebergs floating in the ocean as if it were a trail leading us to it.
The time finally came. We were approaching, and caught our first glimpse of Antarctica. I will never forget it. It was a gorgeous day, cold, but not freezing, and we were welcomed to this pristine place by feeding humpback whales! A large number of whales breeching the water, blowing air out of their spouts, and diving into the ocean waving their tails in the air. We were officially welcomed to Antarctica.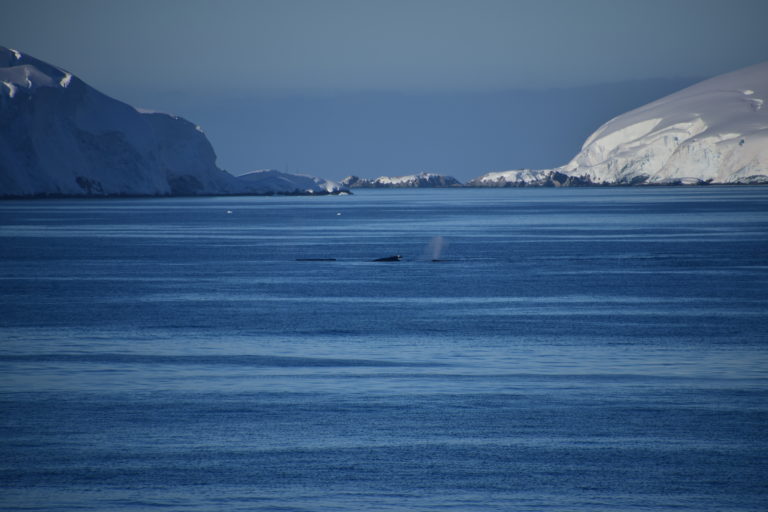 My words will never describe the beauty that I saw in Antarctica, nor do the photos. We were extremely lucky with the weather. We were joined by scientists from the Palermo station . . who educated us on the work they were doing in Antarctica. They mentioned that during the summer, the beautiful weather we had came maybe once every two weeks – so we felt lucky indeed to get not 1, but 2 days of clarity. It pretty much stays bright all day in Antarctica in the summer. The sunrise was around 4:00am and the sunset was around 2:00am. We did get to see some real Antarctic fury when we sailed into a snow storm on our way to the next part of the Antarctic Peninsula. The ice sheets were violently hitting the sides of ship, but we cruised on. Although it was misty and freezing, I really enjoyed the authenticity of the day. I am going to share an entry from my personal journal so you can get a feel of what I experienced.
Final day in Antarctica – A journal entry
I am sitting by my window in the warmth of my cabin watching penguins play on icebergs, whales eating krill, and petro birds fly by the window. It's foggy today, and there is snow flying about the ship. I think it's a typical Antarctic day. The earlier days of sunshine were atypical days here.Although I longed for the sun, I have to admit that being in this true Antarctic weather makes this experience a bit more authentic. Due to the fog, the ship has to keep sounding the fog horn, and it also adds to the atmosphere. I can't help sitting here thinking how fortunate I am to be experiencing this phenomenon. No city noise, no distractions… just the sound of the ocean and wind. I am at peace.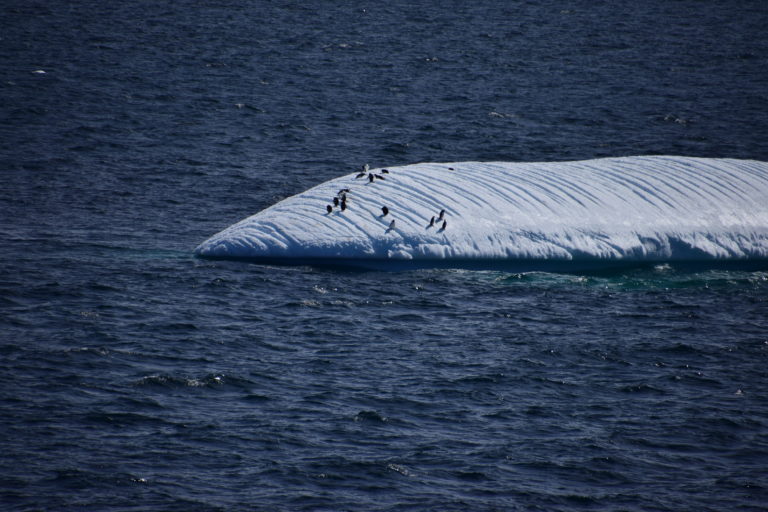 Argentina
Hot, hot, hot. Prior to our magical journey to Antarctica, we stopped at the city at the end of the world, Ushuaia. End of the world indeed. We enjoyed another gorgeous day and even tried some yerba mate from locals. I admit I am a bit of a mysophobe, and I am not one to drink from anyone else's cup. We met a local at a comic book store (yes, a comic book store!) and he was so excited to meet us he brought his drink to share with me. Yerba Mate is a very strong green tea, similar to matcha, and almost everyone in Argentina drinks it. It is sipped from a metal straw in a gorge. I was so very proud of myself for partaking in the drink politely instead of freaking out about germs (which I was secretly doing inside). Later, I found out that by offering the drink to me in their culture it is their way of including me in their inner circle, and acceptance as part of the tribe. I sure am glad I didn't freak out! (Side story: Pete who owns Paper Asylum in Beverly made a great connection with the Smalleville store and we were happy he was able to get a cool Argentinian comic book by a local)
Puerto Madryn & Buenos Aires, Falkland Islands – and I'm throwing in Montevideo, Uruguay
Contrasting the smaller towns to the enormous Buenos Aires is interesting. Small port towns are typical with shops for tourists and is often close to their downtown. We usually have to take a tour further inland to see anything interesting. We did get to watch some pretty happy sea lions (or sea wolves in Spanish) swimming and basking in the sun. We were excited to hear that a new pup was just born that week!  Buenos Aires was filled with more fun and adventure, but none better than indulging in Argentinian steak. It is everything you imagine it to be, and I ate every last bite.
Stanley, Falkland Islands
Penguins and penguin poop.  That is pretty much what we were surrounded by here!  After a 2+ hour rugged, and I mean rugged ride through hills and bushes, we arrived at Volunteer Point to experience the penguin colonies.  Emperor and Magellan penguins nest and have their babies here!  We saw so many variations of penguins on this trip but definitely not this up close and personal.  It was incredible.
Full, tired, and overwhelmed by this adventure, it was finally time to head home…but not before catching Star Wars with Spanish subtitles. What a way to spend our final day.
More on the trip on my podcast and interviews with the scientists on board coming soon – so subscribe to Culture Chat today if you are interested in hearing it!